The progress of digital technology influences virtually every aspect of our lives. We use digital tools to schedule our daily routine, order our food, travel, and do numerous other tasks that would otherwise cost us too much time. In the past, an average student had to visit a library several times, go through dictionaries or pay an expert to proofread a paper, and spend hours compiling research materials for an essay.
Nowadays, essay writing is much easier. It takes less time and effort to write a successful essay now, thanks to a series of technological advancements that facilitate essay writing.
Seamless collaboration
Working on a group school project or collaborating on individual essay assignments is nowadays easier than ever thanks to platforms such as Google Drive, One Drive, and others that allow seamless file sharing, communication, and real-time collaboration. If fellow students were to use the same writing materials earlier, they had to do it in turns. Nowadays, multiple users can access a single file and use it separately according to their needs without interfering with the work of others. 
Moreover, international collaboration is also made easier thanks to different online resources that allow students from different cities, states, or even continents to work together without ever leaving their homes. Unrestricted collaboration is essential for the personal growth of each student because that's one of the ways to improve their writing skills by learning from their peers, exchanging experiences, and sharing new ideas.
Less challenging proofreading
Grammar, spelling, vocabulary, and other aspects of quality literary work are no longer as challenging as before, thanks to a plethora of digital assets that facilitate this part of the essay writing process. Moreover, students nowadays, have online services that can rewrite or proofread entire work. It takes no more than going to https://www.collegessaywriter.com or some other platform to have your essay proofread by an expert. For those that wish to participate in the automated proofreading process, there are software solutions that include:
Grammarly

Hemingway App

WhiteSmoke

SlickWrite
These tools help students avoid grammar or spelling accidentally errors slipping through. It also saves a lot of time, especially when there are many pages to proofread. Going through pages of text several times in a row can often make us tired and cause our attention to drop. Proofreading software helps prevent our diligence from causing a slipup.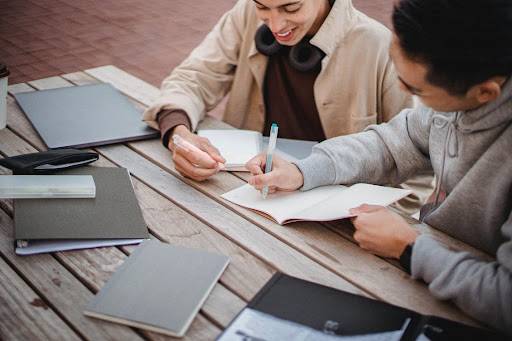 Availability of professional help
No more than two decades ago, students would go through a lot of trouble in order to find professional help with their essays. Whether it was someone to help us outline our work, improve certain segments, or simply proofread the text before submission, things were difficult back then. 
Luckily, students nowadays can find and contact professional writers engaged in different fields of study in just a few minutes. A student could contact https://www.proessaywriting.com and get help with an essay on virtually any topic. Instead of searching for a specific expert left and right, essay writing services hire professionals with Ph.D. and master's degrees, that can offer assistance with any type of literary work. Everything from editing and proofreading to writing an entire essay is possible, which means everything to students that need to delegate some of their work so they could focus on more pressing matters.
Facilitated research process
Searching for materials for an essay is never an easy task. It takes time and effort to find resources that are actual and authentic but also deeply engaged in the topic we're exploring. An essay should exhibit our thoughts, but it should be supported by relevant information that is also interesting to read.
Numerous knowledge bases, online archives, and platforms powered by AI and VR technologies allow students to perform a thorough research of any topic they wish to explore. Online data sources are easy to go through and find the material we need, even a basic search engine can help us find the best material for our purpose.
Moreover, just as it's easy to find and gather everything we need to write a comprehensive essay, technology allows us to file and categorize our data. There are dozens of popular software solutions that help with organizing research information, taking digital notes, highlighting the most important parts, and otherwise organizing research data.
Conclusion
Before the digital revolution, essay writing skills included more than just grammar, style, and knowledge. Students had to be talented writers, great at time management, and excel at data mining. With the advent of technology, essay writing skills necessary for a high-quality work started to change. Now, there are countless digital assets that students can use to improve their work and find the materials they need. They can collaborate easier, find mountains of data without ever leaving their home and have their work checked by experts before submitting it for grading.