In the vast digital landscape of social media, Facebook remains a dominant platform for connecting with friends, family, and the wider world. Amidst the sea of content that floods our newsfeeds, one type of post stands out for its ability to leave a lasting impact: emotional Facebook posts. These posts have a unique power to evoke a wide range of feelings, from joy and laughter to empathy and inspiration. In this article, we delve into the compelling world of emotional Facebook posts and explore how they can forge deep connections and garner significant engagement.
The Impact of Emotional Content on Facebook
Understanding Emotional Triggers
Emotions are at the core of what makes us human. When we encounter content that stirs our emotions, whether through heartwarming stories or thought-provoking narratives, we are more likely to engage with it and share it with others. Emotional Facebook posts tap into this inherent human quality, making them powerful tools for connecting and resonating with audiences.
The Virality of Emotional Posts
Emotional posts have a higher likelihood of going viral compared to other types of content. When people experience strong emotions while viewing a post, they are compelled to share it with their social circles, creating a ripple effect that extends its reach far beyond the original audience.
The Spectrum of Emotional Facebook Posts
Joy and Laughter: The Power of Humor
Humorous posts have the ability to brighten up anyone's day. Memes, funny videos, and witty anecdotes can induce laughter and create a sense of joy within the audience. Brands and individuals alike leverage humor to not only entertain but also to humanize their online presence.
Empathy and Compassion: Heartfelt Stories
Emotional posts that tell compelling stories of resilience, kindness, or overcoming challenges have a profound impact. These narratives invoke empathy and compassion, fostering a sense of unity and shared humanity among viewers.
Inspiration and Motivation: Stories of Triumph
Posts that showcase stories of individuals who have achieved remarkable feats against all odds inspire and motivate. Such content encourages viewers to strive for their dreams and serves as a reminder of the indomitable human spirit.
Nostalgia and Sentimentality: Throwback Posts
Nostalgic content that takes viewers on a trip down memory lane is deeply relatable. Whether it's old photographs, songs, or cultural references, these posts evoke sentimentality, generating warm feelings of nostalgia.
Contemplation and Reflection: Thought-Provoking Content
Posts that delve into thought-provoking topics and encourage introspection stimulate the mind. Thoughtful discussions on social issues, philosophical musings, and intellectual debates resonate with audiences seeking deeper connections.
Crafting Emotional Facebook Posts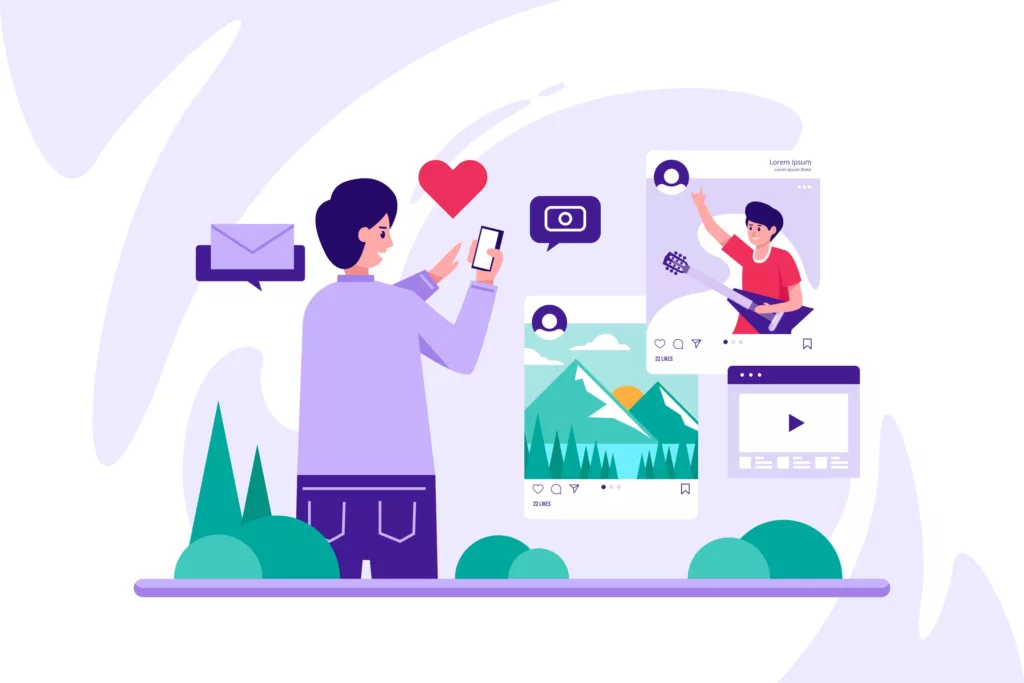 Know Your Audience
Understanding your target audience's preferences and emotional triggers is crucial. Tailor your content to resonate with their values and interests.
Authenticity and Genuine Storytelling
Emotional posts are most impactful when they come from a place of authenticity. Genuine storytelling creates a sense of trust and connection with the audience.
Visual Appeal
Incorporate captivating visuals such as images and videos to complement your emotional content. Visuals enhance the overall experience and make the post more shareable.
Empower Your Audience
Consider how your emotional posts can empower and uplift your audience. Provide value through inspirational messages or actionable insights.
The Ethical Aspect of Emotional Posts
Avoiding Manipulation
While emotional posts can be powerful, it is essential to avoid manipulating emotions solely for engagement. Respect your audience's feelings and maintain integrity in your content creation.
Mental Health Considerations
Be mindful of the potential impact of emotionally heavy content on your audience's mental health. Balance emotional posts with positive and uplifting content.
The Art of Engaging Emotionally
Encourage Engagement and Conversation
Emotional posts often spark conversations and discussions. Encourage your audience to share their thoughts and experiences, fostering a sense of community.
Measure Success Beyond Metrics
While likes, shares, and comments are important metrics, the true success of emotional posts lies in their ability to leave a lasting impression and forge genuine connections.
Conclusion
Emotional Facebook posts possess a unique power to connect, inspire, and unite people across the digital realm. Whether it's through humor that brings laughter, stories that invoke empathy, or inspirational content that motivates, emotions play a central role in the online experience. As content creators, embracing the art of crafting emotionally resonant posts can lead to a deeper and more meaningful relationship with your audience, creating a positive impact that lingers long after the scroll.
FAQs
1. Why are emotional Facebook posts so engaging?
Answer: Emotional posts evoke strong feelings, prompting viewers to engage and share the content with others. These posts create a deeper connection with the audience.
2. How can I create emotional content for my brand?
Answer: Identify the emotions you want to evoke and tell authentic stories that align with your brand's values. Use visuals to enhance the emotional impact.
3. Is it okay to use emotional triggers in content creation?
Answer: Using emotional triggers is acceptable as long as it's done ethically and respectfully. Avoid manipulative tactics and prioritize genuine storytelling.
4. How can I balance emotional content with other types of posts?
Answer: Balance emotional content with a mix of other content types, such as informative or entertaining posts. This ensures a well-rounded and engaging content strategy.
5. What emotions should I focus on when creating emotional posts?
Consider a range of emotions, including joy, empathy, inspiration, nostalgia, and contemplation. Tailor your content to align with your audience's preferences.