In the fast-paced world of digital marketing and branding, logos play a crucial role in representing a company's identity. However, designing a logo from scratch can be a time-consuming and expensive process. This is where AI logo generation comes to the rescue. In this article, we will explore the fascinating world of AI-powered logo design solutions, free options available online, and the exciting 3D capabilities that redefine logo design.
Understanding AI Logo Generation
What is AI Logo Generation?
AI logo generation is a cutting-edge technology that uses artificial intelligence and machine learning algorithms to create logos autonomously. These AI-powered systems analyze vast databases of existing logos, design principles, and color palettes to generate unique and visually appealing logos tailored to a company's requirements.
The Perks of AI Logo Generation
AI logo generation offers several advantages over traditional design methods:
Speed and Efficiency: AI-powered systems can generate multiple logo concepts in a matter of minutes, significantly reducing the time needed to create a logo.
Cost-Effectiveness: Traditional logo design can be expensive, involving professional designers and multiple revisions. AI logo generation eliminates these costs, making it an attractive option for startups and small businesses.
Uniqueness: AI algorithms ensure that the logos generated are original and distinct, avoiding any copyright or plagiarism issues.
Adaptability: AI-generated logos can be easily customized, enabling businesses to experiment with different styles and concepts.
Free AI Logo Generation Tools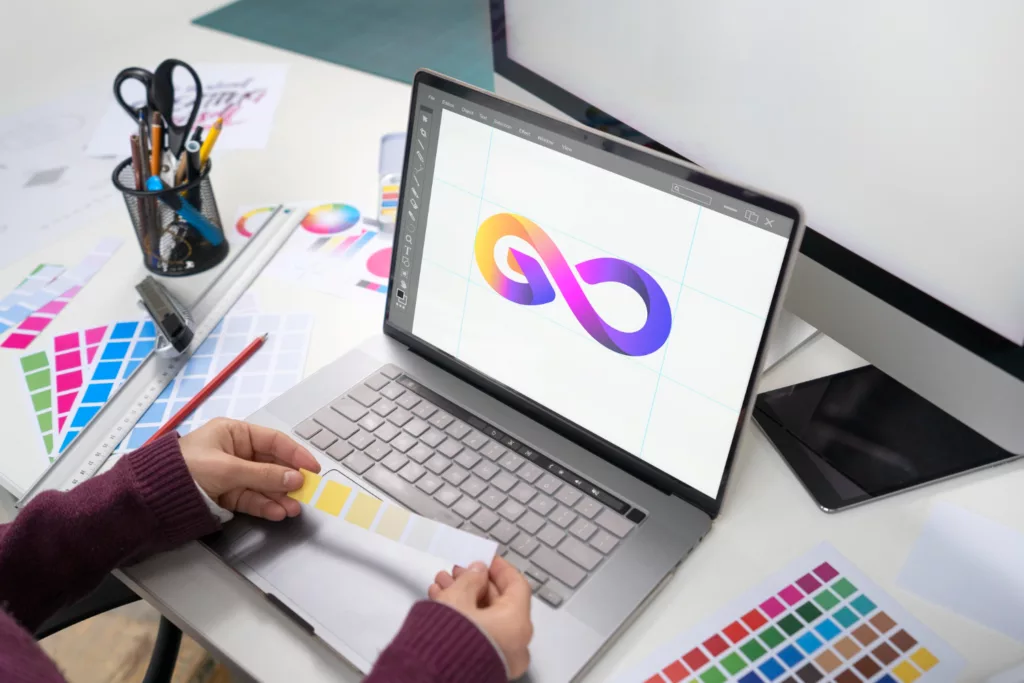 Canva
Canva, a popular graphic design platform, offers a free and user-friendly logo maker. With a wide range of templates, icons, and fonts, Canva allows users to create professional-looking logos with minimal effort.
Looka
Formerly known as Logojoy, Looka provides an intuitive AI logo design tool. Users can simply enter their company name and preferences, and Looka generates a variety of logo options for consideration.
Ucraft
Ucraft's logo maker boasts an extensive library of icons and design elements. It allows users to create high-resolution logos with transparent backgrounds for free.
Wix Logo Maker
Wix offers a sophisticated logo maker that utilizes AI algorithms to produce unique designs. Users can easily edit and customize their logos to suit their brand identity.
AI Logo Generation Goes 3D
Embracing the Third Dimension
While traditional logos are typically two-dimensional, AI logo generation has transcended this limitation. Advancements in technology now enable AI systems to create stunning 3D logos that add depth and dimension to a brand's visual representation.
The Power of 3D Logos
Visual Impact: 3D logos create a striking visual impact, making a brand stand out from competitors.
Versatility: 3D logos can be easily adapted for various applications, such as website headers, social media profiles, and merchandise.
Modern Appeal: 3D logos exude a contemporary and forward-thinking vibe, appealing to younger audiences.
Wrapping Up:
AI logo generation has revolutionized the way we approach logo design. Its effortless solutions, cost-effectiveness, and ability to deliver 3D capabilities have made it an attractive choice for businesses of all sizes. Embracing AI-powered logo design opens up new creative possibilities and allows brands to establish a strong and memorable visual identity in the competitive market.
Frequently Asked Questions
Q1: Are there any privacy concerns with using AI logo generators?
Answer: Reputable AI logo generators prioritize user privacy and ensure that any data used for logo creation is handled securely and responsibly.
Q2: Can I edit an AI-generated logo after it's created?
Answer: Absolutely! AI-generated logos are fully customizable, allowing you to make edits and adjustments as needed.
Q3: Are there any limitations to AI logo generation?
Answer: While AI logo generation is highly efficient, it may not fully replace the creative expertise of human designers in complex logo projects.
Q4: Can I trademark an AI-generated logo?
Answer: Yes, you can trademark an AI-generated logo as long as it meets the legal requirements for trademark registration.
Q5: Is AI logo generation suitable for all types of businesses?
Answer: Yes, AI logo generation is versatile and suitable for businesses of all sizes and industries.